Not much to say about this, it is a staple, easy and damn tasty salad to accompany of course any Greek dish, and any dish where you want to have something that tastes fresh and almost healthy.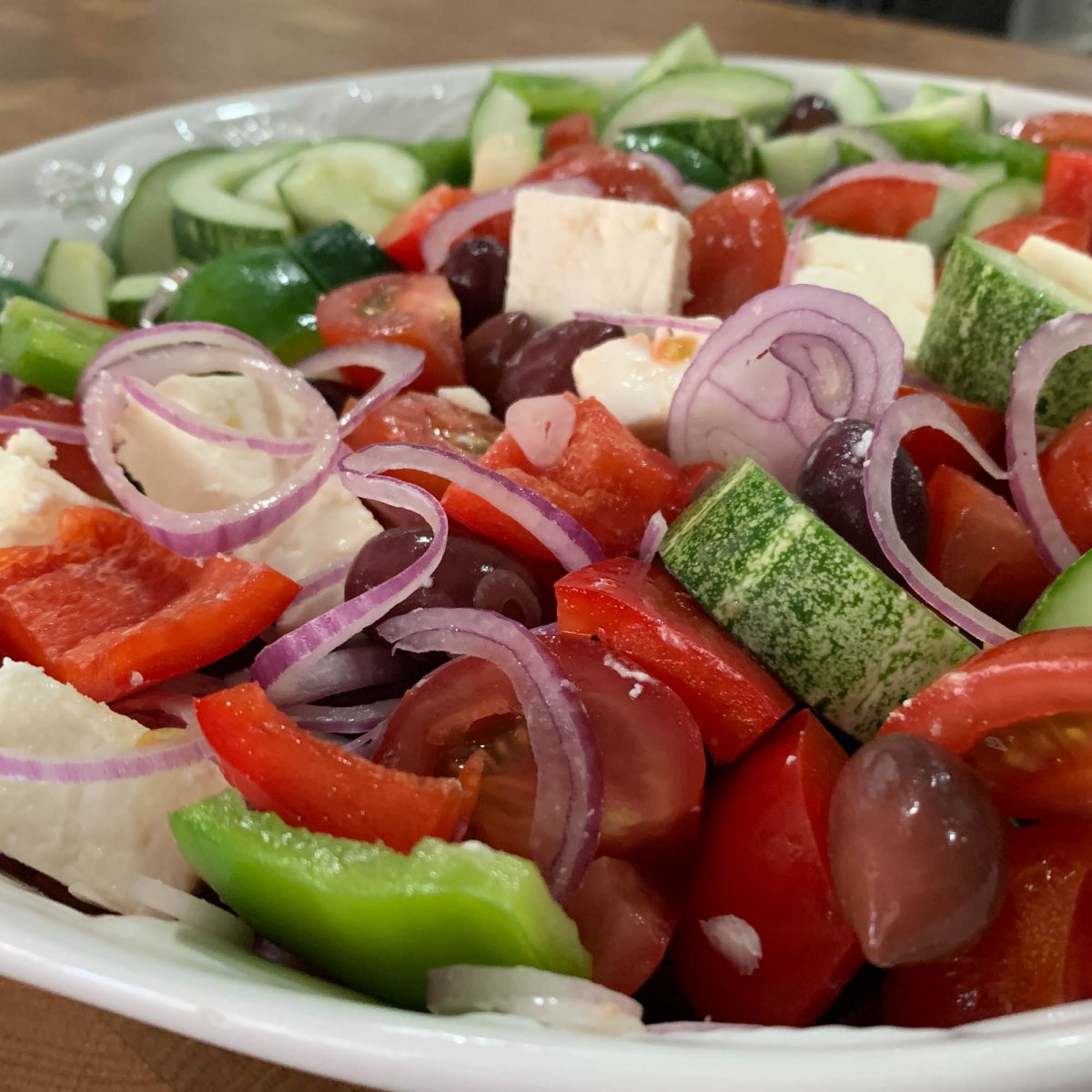 This particular version has all the basics, it is not complicated and will always be a winner with vegetarians and meat eaters alike. The key here, and probably with any fresh salads, is use the best quality ingredients you can get your hands on and afford. The tomatoes should be firm, vine ripened, organic is good, and they should taste like tomatoes. Large cherry tomatoes are my favourite but get the best you can no matter what type.
Same goes for the cucumber, I am partial to Lebanese cucumbers, just something about them that works, but any good quality cucumber that you can acquire works. Remember this is a fresh salad, so use the freshest best quality ingredients you can.
There are two ingredients that you should take your time to source properly if you want this simple dish to slap your guests in the face with tradition, the olives and the feta.
If you use anything but Kalamata olives, I will disown you and so will all my close Greek friends I grew up with. It would literally be a sin to use anything else. The feta should also be sourced from anywhere you can find fresh pure goats milk Cypriot feta. This, however, I freely admit is a rare option certainly where I live. So on the assumption you can not get fresh Cypriot feta, find a good quality Greek produced feta, it is usually a little less firm, crumbles a little more, is a little softer and adds to the mix of flavours. I even encourage you to test the differences between small producer quality and large brand/bulk produced cheeses, you will know what I mean afterwards.